Does Your Pep Talk Need a Little More Punch?
C18O is a line of edgy and fun fidget rings for adults, each with a hidden message that's revealed when you spin it. Always empowering but never cheesy, these rings are the light-hearted inspiration you need to kick it into high gear.
Not sure which ring best fits your vibe? Take our quick quiz to find your perfect match!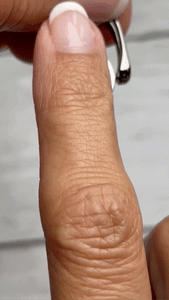 How it Works
SPIN to make your secret encouraging & edgy message magically appear

CLICK the spinner in & out of the base to feel chill & focused

SWAP spinners for a new message to kick it into high gear & crush it
Already have a base?
Choose a spinner or two to fit your ring base so you can switch out your inspiration as needed.